In the midst of a global COVID-19 Pandemic, office workers have gone "cubicle-free" and the public has become more skeptical over how to safely commute using public transportation than ever before. After creating the new verb of the decade, companies like Uber (let's "Uber" to the show) and Lyft are being used even less frequently now for standard public transit and most often for their food delivery services — Uber just recently purchased food delivery company Postmates for $2.65 Billion after losing out on an attempted merger with industry leader Grubhub. They are expected to double-down on a newer grocery store delivery service after purchasing the majority share in the company last year.
While these delivery and ride-share companies continue to evolve to stay afloat, one thing is still certain — people require an inexpensive, reliable, and safe way to get around.
Enter the electric bicycle. It may be a game-changer for REs. As both local and federal governments are encouraging social distancing around the world, many commuters are taking to the eBike to remain active while maintaining their distance from one another at the same time, which explains why multiple eBike vendors are reporting sales spikes upwards of almost 50% since February of this year.
Lectric eBikes cofounder Levi Conlow crystallized this new trend in a recent interview: "Our customers have been saying that e-bikes are a great option for the new coronavirus-era way of living. The dramatic increase in sales shows that nationally, people are looking to shift how they get around. It's also a fantastic option for those looking to socially isolate while getting fresh air outside."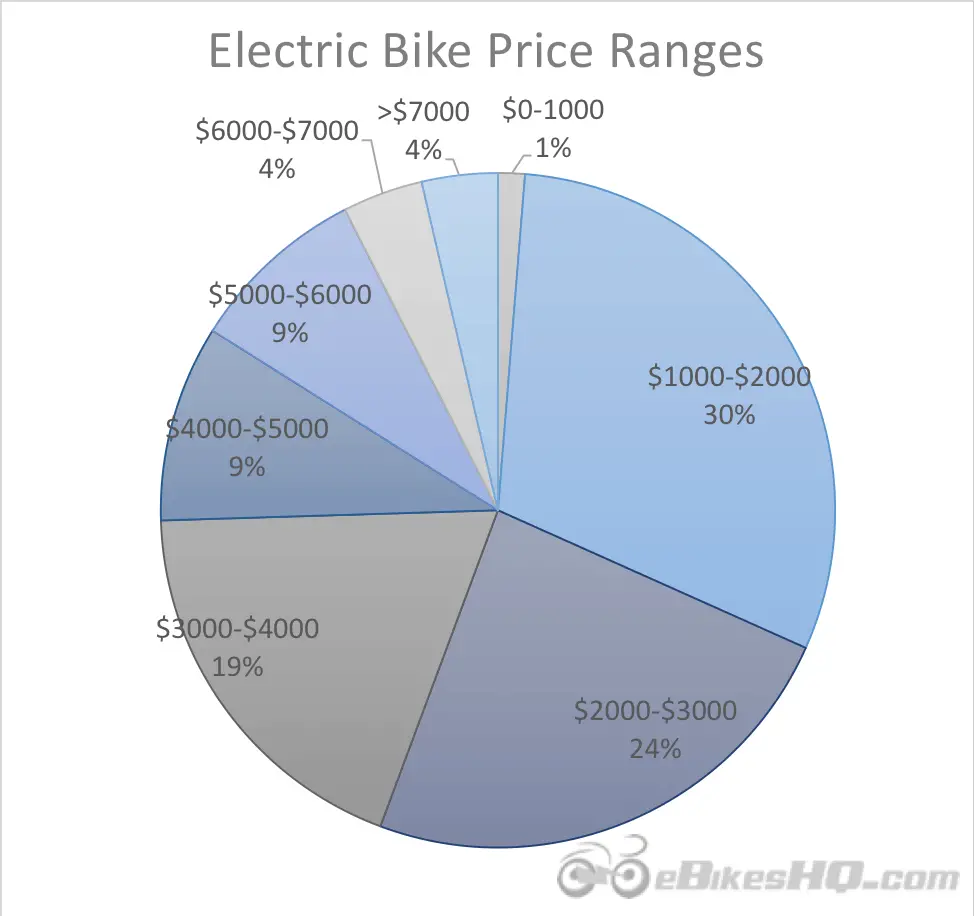 In an eBikesHQ article comparing over 450 ebikes, the largest share of the price bracket pie for a brand new eBike was in the $1000-2000 range.
Unlike electric cars however, one of the largest selling points of an eBike is that your standard bicycle can be easily converted into an eBike with just a few hundred dollars and some tools. Independent of which wheel the motor powers or the voltage of the battery, we compared just the top 50 most popular and most recommended eBike conversion kits around. Assuming those kits advertised as best selling actually are getting the most sales, it would seem like the average consumer is paying about $760 to turn their bicycle into an eBike, battery included!
With no end to the COVID-19 pandemic in sight, and with eBike popularity skyrocketing, eBike neo magnets could be asking for a larger share of the rare earth magnet pie very, very soon. Indeed, eBikes exceeded Hybrid and EV usage of neo magnets in 2015, and were projected to account for more than 70% of Hybrid and EV neo magnet usage in 2020, at 13,000 tpa. (Source: Steve Constantinides, "The Big Picture: Putting the Magnet Market Trends Together," Brief at Magnetics 2018, Orlando, Florida, February 8, 2018, Slide 9). That share is indeed likely even larger than projected given the sharp drop in vehicle sales in 2020. Better line up now; do you have your order for an eBike ready?
#RareEarths #RareEarthMining #RareEarthMetals #TechnologyMetals #ElectricVehicles #ElectricVehicle #EV #ElectricCar #BusinessModels #Magnetics #Magnets #SupplyChainResearch #ElectricBike
#SynthesisPartners